Rotary Flow Metering Fillers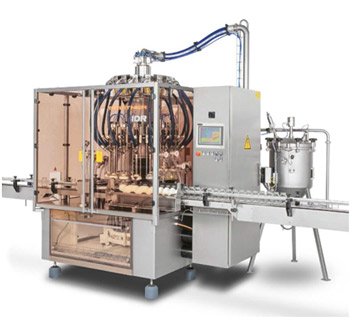 Breitner rotary flow metering filling machines provides constant high performance whilst at the same time quiet continuous motion. Ideally suited for products such as shampoos as well as cleaner or toilet gels.
For foaming products, the fill tube is lowered completely into the bottle for 'bottom-up' filling to eliminate the tendency to foam and gradually extracted as the filling process takes place.
The flow meter filling system offers a large dosing range, allowing for easy and comprehensive
cleaning and wear-free operation.
For individual products and their respective packaging a number of parameters are set once, optimized, and then stored in the machine memory for future use. This results in consistent, precise, fast and clean filling. The subsequent cleaning is also done automatically in an optimal time frame having a predetermined amount of cleaning media.
Image: Breitner Rotary Flow Metering Filling Machine
Manufacturer: Breitner